---
---
Our Pet Banana Bed is the most adorable and fun bed for your pet! It's shaped like a big banana and is comfortable for both dogs and cats. Peel the banana back to provide an opening or cover it up with the peel to allow your pet to be concealed.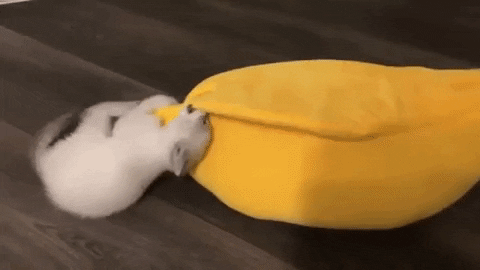 Key Features & Benefits
This soft, warm Banana Cave Pet Bed is the perfect place for your pet to curl up in on those cool nights when it wants to feel cozy and secure.
Made with soft, breathable plush material, your pet will LOVE how this bed makes them feel comfy, safe and relaxed. It's the ideal retreat for any pet and it's especially great for cats because of their fondness for small, dark, cave-like spaces! It also works great for small dogs and puppies,
Banana-shaped pet bed, perfect for taking photos,
Suitable for cats or small dogs,
One banana peel can be peeled back for an opening,
3 color options: Yellow, Green, or Pink, 
Comes in 3 sizes options: Small, Medium, Large
---