---
---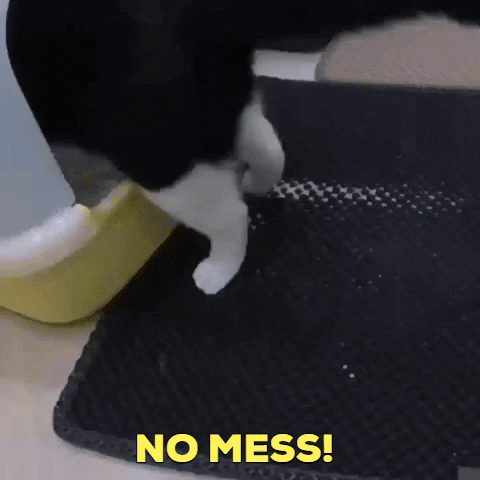 Finding cat litter on carpeting, clothing, furniture, or even in your bed... is, well, really annoying sometimes. That's why every cat owner should have The Litter Locker Mat!
When you've got cats, you know firsthand how annoying it can be when they track litter out onto the floor after they're done using the bathroom. And while you love your precious kitties, cleaning up their scattered litter can be a real pain.
That's why we created the Cat Litter Mat that sits in front of their litter box and captures all the tiny granules before they have a chance to bounce across the floor or get stuck to your socks or bare feet.
This double layer cat litter trapper mat with holes keeps your house clean; no more litter mess spread throughout the house.
Key Benefits
Safe for your pets:

 

Made of lightweight, durable, phthalate-free and eco-friendly EVA foam rubber that is soft on your kitty's paws and won't hurt your pets,
Double-layer: it has two layers, the top one having large, deep holes in the surface. This makes it easy for your kitty to release any litters from his paws into the lower or catch-all layer. The mat open at one end, so you can lift the mat, open it, and gather the kitty litter easily.
BEST MAT EVER! No more getting litter stuck to my feet on a daily basis! Large holes are large enough to catch and trap litter. Suitable for lots of type of litter, and kitty litter boxes, hooded, self-cleaning litter box,
Waterproof:

 

The waterproof base layer keeps urine off the floor. It also has a nylon mesh border located on the perimeter of the mat that absorbs excessive urine to prevent leaks and keep your floor dry,
Leather edge prevents odors:

 Leather edging prevents urine accidents from being transferred to your floor, but unlike a cotton edge it won't absorb urine and create a foul, lingering odor,
Easy to clean washable litter mat:

 

Our litter box mat is an upgrade mat, it is made of soft, durable and washable EVA. Dirt can be removed super easily. You don't have to sweep up or vacuum the litter every day. Save time and strength!! Plastic cat mats have to use a vacuum to clean cat litter and still cannot be thoroughly cleaned,
Protects your floor:

 The bottom layer is coated with a unique laminated material that will not allow any liquid to go through. Safeguards your hardwoods and carpets from nasty urine stains.
Available in 5 different sizes to cater to felines of different sizes. a useful gift to your friends and loved ones who are cat owners too!
---